A quick guide to pricing for handmade rings
This section of our website is meant to give you at least some idea of how much you should budget for a handmade, heirloom-quality engagement, wedding, commitment or other rings.
It will give you a rough guide only as no two rings are the same, and because exchange rates and diamond, gemstone and precious metal prices change all the time, what something costs today may well change overnight.
*By the way, for non-ring things like earrings, pendants, cufflinks, bracelets and other types of jewellery, the price depends entirely on the design. Contact us if you'd like us to quote something like this for you.
The prices you see below are for metal and manufacturing charges only. Diamonds and gemstones are extra.
For engagement rings that take twelve hours or less to manufacture (assuming an average finger size),
the metal and manufacturing charges only will be something like:
Palladium: from $1800*

18 carat (white, rose or yellow) gold: from $2200*

Platinum: from $2400*
*To this you add the cost of your preferred diamond/s or gemstone/s. There is a diamond price guide further down the page.
Examples of simple ring designs
Examples of more complex ring designs
Note: For hand pierced or pave diamond set (many diamonds or gems), regardless of metal type, expect to pay anything from $750 – $1500 more. Plus the cost of the diamonds and/or gemstones.
***Due to the volatility of the precious metal markets and international exchange rates, all prices are subject to change without notice***
 You can read more about engagement ring pricing in this blog post.
Wedding and commitment style rings
Simple half round or flat bands with minor variations.
Handmade in:
Palladium;

18 carat white, yellow or rose gold; or

Platinum.
2mm – 4mm (sizes J/4.75 – O/7)
Palladium: $500 – $750

18 carat gold (rose, white, yellow): $700 – $1100

Platinum: $800 – $2000
5mm – 7mm (sizes P.5/8 – X.5/12)
Palladium: $800 – $1500

18 carat gold (rose, white, yellow): $1400 – $3000

Platinum: $1550 – $3500
Simple wedding/commitment bands
 


Fitted wedding/commitment bands
Expect to pay $200 to $350 more than a plain ring for a fitted band. For engraving, fancy shapes and diamond setting please ask for a quote.
Complicated wedding/commitment bands
More elaborate wedding rings are difficult to price because there are so many variations. Please ask us for a quote.
Engraving quotes are on a piece by piece basis
Prices range from $30 for the date inside.

Wedding rings from $175 for top engraving.

Three sides engraving from $450.

Micro engraving is priced on application.
Within reason, the possibilities are endless …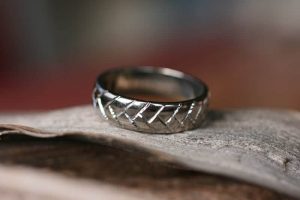 Choose from:
Argyle white diamonds

Argyle champagne and cognac diamonds

Argyle pink diamonds

Ellendale yellow diamonds

Australian rough diamonds (Argyle and Ellendale)

Recycled diamonds

Vintage (certified post-consumer) diamonds

Laboratory-grown diamonds
White diamonds
Half-carat Argyle round diamonds are available from $4000. Expect to pay upwards of $10,000 for a one-carat Argyle white, round brilliant diamond.
Laboratory-grown diamonds are usually around 2/3 the price of mined diamonds.
Recycled modern diamonds: Usually 20 – 25% less than Argyle diamonds.
Vintage diamonds: Old cuts and off white colours from $800.
Fancy colours
Yellow diamonds are available in limited supply. They are similar in price to white Argyle diamonds.
Argyle Cognac diamonds of various shapes in a half carat from $1500 to one carat from $4500.
Pink diamonds are a luxury item. Pinks over a certain size are often bought as investments Their value rises every year. The Argyle mine where most of the world's supply is found has a limited lifespan and the price will only increase.*
Pink diamonds can be on par with super luxury car prices. Larger ones can cost more than a house.
Prices are a guide only
They are subject to change with currency (and other) fluctuations. Current as at 29th August, 2017 with the Australian dollar @ $US0.78
Contact us for an obligation free quote.
*this is not intended as investment advice. It is an observation of the trending of pink diamond prices.
Prices for gemstones vary wildly depending on type and quality.
You might pay only tens of dollars for small, locally produced sapphires, or tens of thousands of dollars for larger, exotic and high quality gems. (Throw lab-created gems into the mix and that makes things even more complicated.)
The best thing to do is contact us to discuss what you want and how that will fit into your budget.
Ring designs with custom 'technical' (or workshop) drawings are free of charge. As is (of course) our advice.
If you are looking to design something unique and need to see what the finished product will look like, we can produce a 3D, computer rendered image of the piece you've commissioned.
This level of design service starts from $275 (technical drawings plus 3 rendered variations of the primary design).
Typical Technical Drawing
Example of a 3D Rendering (below)
Valuations
Valuations aren't essential, but they're very useful for insurance purposes so you have an independent record of the replacement value of your jewellery piece.
Sadly, over the years, several of our customers have lost their rings – one even destroyed hers in a push bike accident – so insurance is a good idea (it may simply be a matter of adding specific items to your home and contents policy).
Independent valuations are $70 per piece (inc. GST).
Postage and transit insurance
Australia Post, postage and transit insurance for handmade rings is free of charge within Australia
. If you prefer a courier, charges can apply.
Pick up is available for Brisbane residents by appointment.
We do not post outside of Australia unless there are exceptional circumstances.
Ring boxes
All rings or ring sets come with a beautiful, sustainable timber ring box. (Pendants and other significant pieces of jewellery get a timber box too!)